Those precious days and weeks when you are just getting to know your newborn baby are very fleeting. This makes new baby photo sessions one of the most popular in my portfolio. Whilst it's a huge privilege for me to join you at this special time, these sessions can be challenging, so preparation is key to successfully capturing the moment. In this blog, I'm covering the important things to note before you book, and giving you some pointers on how best to prepare for a successful photo shoot.
When?
Photoshoots for newborns are best done within the first 14 days of your baby's arrival – ideally, within the first 3-7 days. This is when your little one will be the most sleepy and easy to get into those curly, bendy poses. Around day 8 your baby will have discovered the joy of stretching, which makes posing a little more difficult. From day 14, your baby will be much more wakeful, aware of his/her surroundings and it's impossible to get them into the most classic, scrunchy newborn poses whilst in a content and sleepy state. Also, we are more likely to encounter acne and colic by day 14, which makes for more of an editing requirement and less genuine images.
Contact me during your second trimester, to pencil in a date; and then again shortly after your baby arrives to get a firm slot in my schedule.
Where?
These sessions are done in my studio, where I can guarantee a safe and clean space with plenty of cosy heating and access to tea, biscuits and every facility that a new parent could need. There's enough space for a maximum of two adults to accompany baby.
Safety first
Your baby's safety is paramount, so I have strict guidelines when it comes to posing your newborn. I will never attempt a pose or to use any props if I feel that your baby is too alert, unsettled or becoming distressed. This is particularly important for babies over 2 weeks old, who tend to be much more aware of their surroundings. I'm pretty used to handling newborns but if you feel uncomfortable at any point during our session then please do speak up and we will stop and change our approach immediately.
What to bring with you (a note on props)
Aside from the obvious nappies, wipes and other essentials; you don't need to bring anything aside from your baby. (A stack of fresh blankets, wraps and muslin cloths is very welcome though, because poo-poo and mess does happen!)
I can supply a variety of backdrops and colour schemes, safe props, outfits, blankets and wraps for you to choose from. I will welcome your suggestions too, if you would like to feature something special (a little in advance of our session, if possible please). I've previously used swings suspended from the ceiling, plant pots, barrels, baskets – and more!
Before the session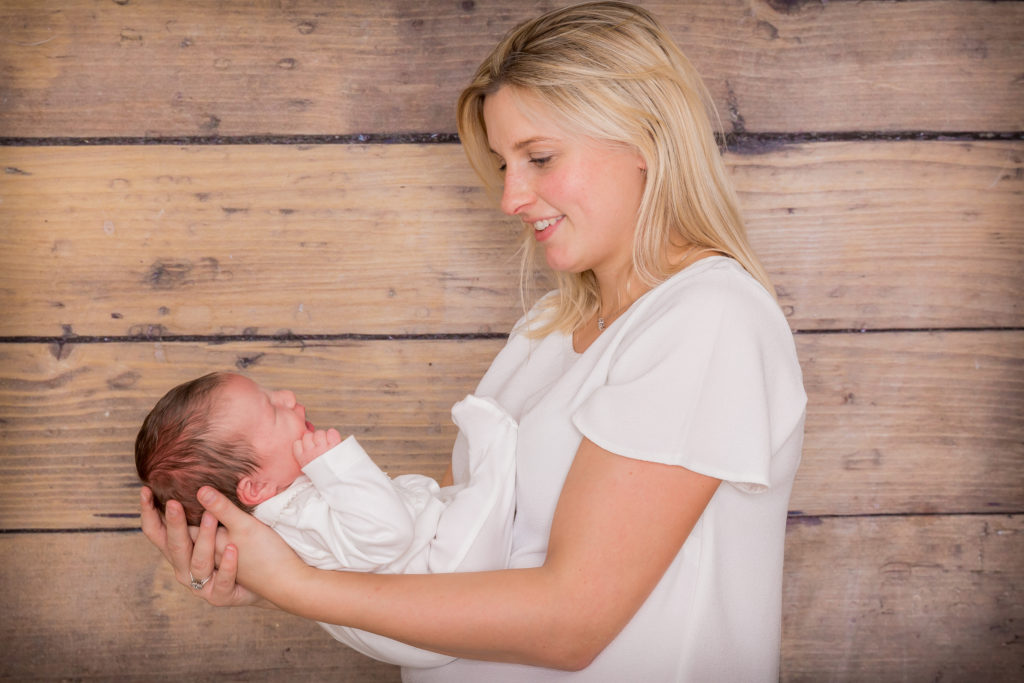 Please loosen your baby's nappy 30 minutes prior to our session. This helps any little marks to disappear so their beautiful baby skin will look fresh and brand new.
I also ask that you wait until you arrive at the studio to feed your baby; this is very important. We need your little one to be as sleepy and content as possible.
Feeding, nappy changes and cuddles
These photo shoots cannot be rushed and may take up to 4 hours. This depends very much on the mood your baby is in. There's plenty of time for cuddles and catering to every need. I will have no problems with stopping as many times as you need me to. Mums and Dads (or other accompanying adults) are kept comfortable nearby with tea and biscuits throughout the session.
Calm serenity please!
For the best possible results, we need a quiet and calm environment for this photo shoot. (This makes for a calm and happy baby). If we are introducing other children or family members into your images they will need to join us briefly at the very beginning or end of the session.
Seriously; relax!
Babies pick-up on frustration and stress very quickly, and a calm and contented baby is vital for stunning images. As a mother of twin boys, I understand that babies are unpredictable. Your baby might not sleep for the duration. We may not manage all of the poses I have in mind. There might be some mess involved! The most important thing to remember is that I've done this before. We will work with your baby's mood to get some photos, come what may!
What should you wear?
What better excuse for a pampering session? I recommend soft knits and fabrics without buttons or chunky fastenings that your baby will be cosy to snuggle-up against. Please keep accessories minimal and avoid big, bold logos, writing and baggy clothing. Creases do show-up in photos, so iron or steam your outfits. (Editing wrinkly clothing is a major job and will incur an additional fee). Treat Daddy to a grooming session and remember that we might need you to bare your feet or use your hands. You might want to get them beautified into tip-top condition too!
Once again; poo-poo happens! Bring a spare outfit along because, ya know..!
Ready to go?
Have I missed anything? Please feel free to ask me questions, or get in touch to pencil-in your photoshoot.