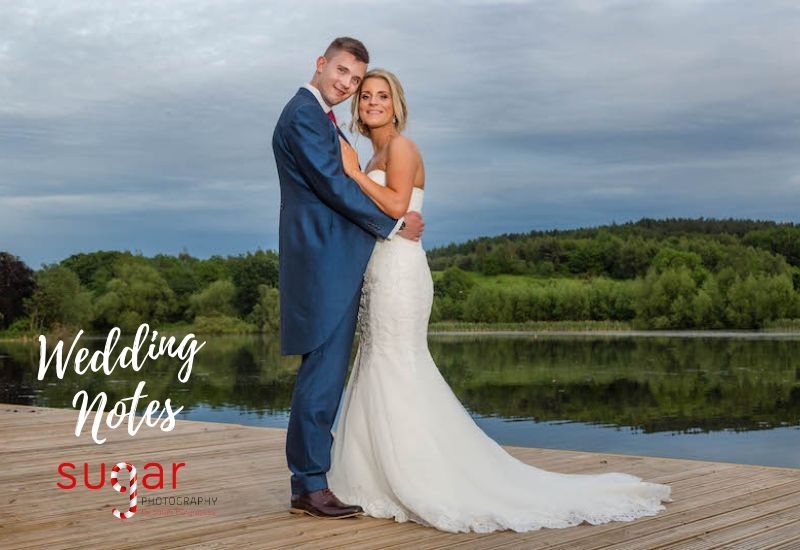 The Proposal
Online dating brought this happy couple together in March 2014. One year later, on 14th June 2015, Andrew popped the question whilst on holiday in the Dominican Republic.
"We had a jacuzzi laden with rose petals and a bottle of champagne. It was ever so romantic and was a holiday for all the ages."

Andrew
Preshoot
Andrew and Roxy chose to go to Hopton Woods for their engagement photoshoot. A favourite place for walking, the woods are close to Roxanne's family home in Mirfield.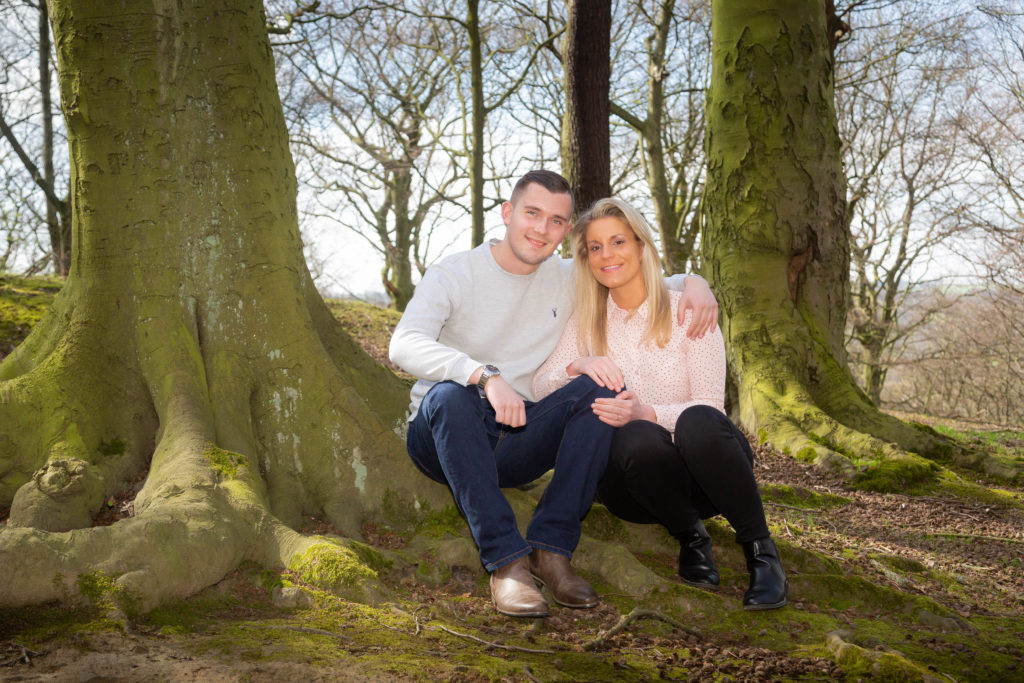 Wedding Day Preparation
Roxanne, her bridesmaids and her 'Man Of Honour,' Matthew; a close friend from school, got ready for the Big Day at Roxanne's Mum's house. I spent the morning with them whilst Martin, my 2nd photographer, headed over to Roxanne and Andrews house to join the groomsmen.
The girls were really calm and enjoying gin and tonics, (the guys were also on the fizz once Andy's sister arrived!) As is often the case when I'm photographing a wedding, I felt so honoured to capture the beautiful , emotional moment when Roxanne's Dad saw his daughter. Even I had tears in my eyes!
Whilst all of this was going on, Martin was already at church making the most of some more photo opportunities. I think the vicar was starting to get a little worried as Roxy ended up being 45 minutes late to church … Fashionably late, in time-honoured tradition.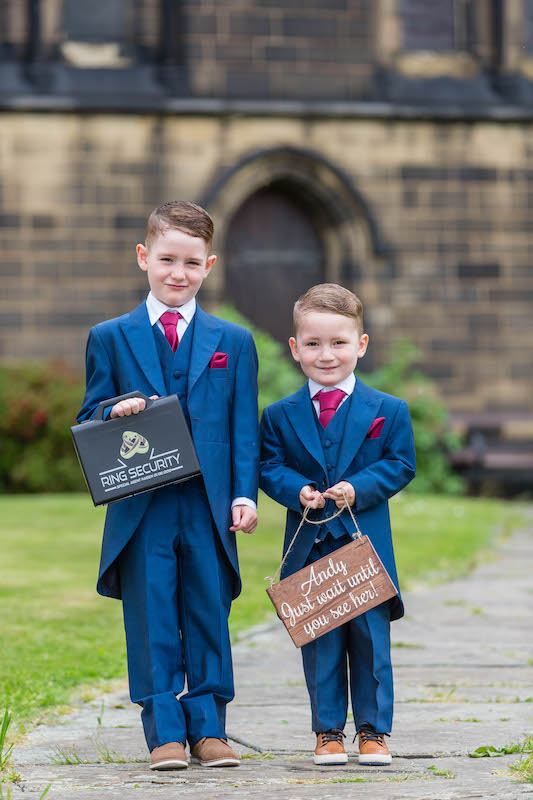 The Ceremony
This was a traditional ceremony with hymns and readings by Best Man Mark; and both Roxy's sister and Andrew's sister.
Once the ceremony was over, we headed out into the beautiful sunshine for the confetti shot and a few photo's at church before heading to Waterton Park for the wedding breakfast.
Wedding Breakfast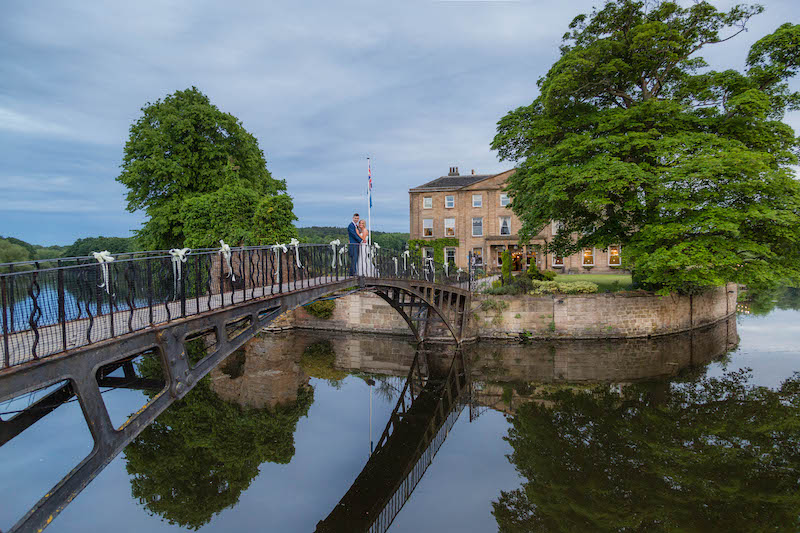 "In 2017 we spent a weekend away at Waterton Park Hotel. After being taken aback by the beautiful surroundings we both said "I can see us getting married here". And the wedding planning started, all the way to 1st June 2019, when we tied the knot."

Andrew Blythe
On arrival at Waterton Park, we were short on time time, so I prioritised the group photo and a few family portraits. The room looked absolutely stunning, dressed with blossom trees and vivid fuchsia chair covers. Everyone enjoyed a lovely meal followed by speeches from Andy, Roxanne's Dad and Mark, the Best Man.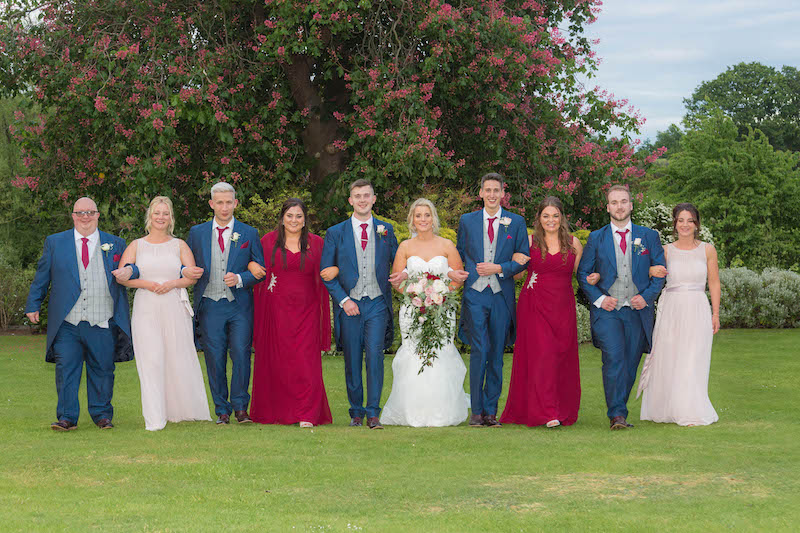 After the wedding breakfast we took an opportunity to capture some fun and formal shots, plus some gorgeous portraits of Andrew and Roxy in the beautiful grounds of Waterton. I am a recommended photographer for Waterton Park, so I know just where to go for the best photos, come rain or shine.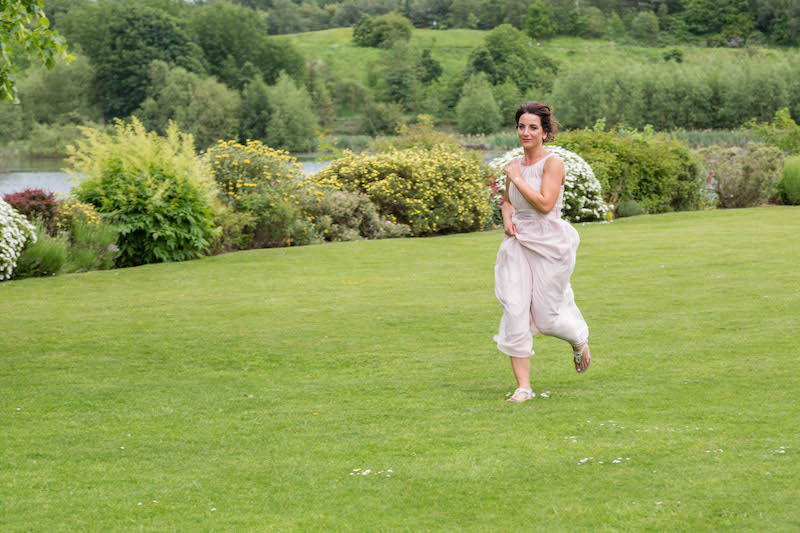 Wedding Reception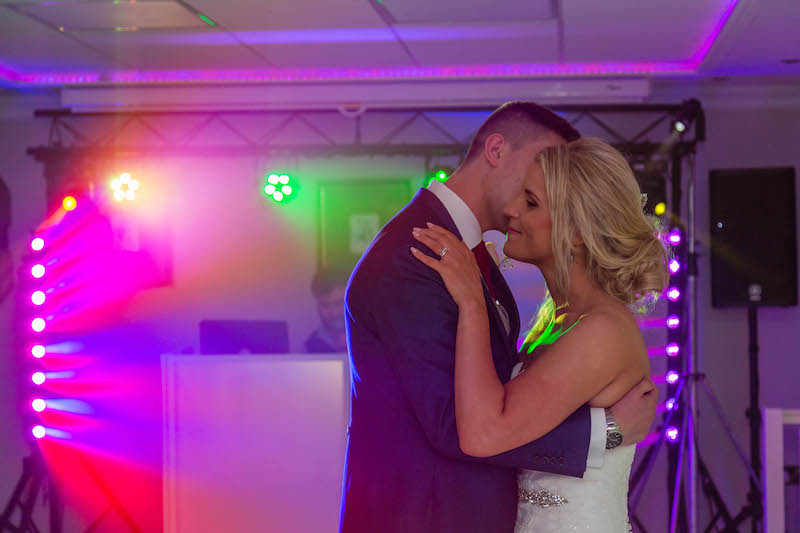 The evening reception was already underway by the time we had finished the photos. We captured the first dance before leaving everybody to dance the night away .
Review From The Bride And Groom
Andrew and Roxy have since received their gallery and they are absolutely over-the-moon with their photos. I have to say that they have exceeded my record for the biggest gallery delivered to date. Over 900!
The summer heat combined with the delays during the day did certainly challenge us. However, when we receive emails like the one below, it is the best form of job satisfaction ever.
"Hi Sarah and Martin;

Mr and Mrs Blythe would love to thank you both for such an amazing day on Saturday, what lovely people you both are. Your passion and how you looked after us was extraordinary. We are really excited to see the pictures which will, surely, be out of this world.

Lots of love from Andrew and Roxanne Blythe' xx"

A Note From The Happy Couple
Upon receipt of their wedding gallery they then posted these lovely comments on the Sugar Photography Facebook page;
"Beautiful storytelling; all captured from the back of a lens by 2 amazing photographers. Thank you for everything you have done for me, Rox and family. We are overwhelmed by how incredible these photos are."

Andrew Blythe
"We have just looked through them Sarah, we are both totally amazed! They are absolutely beautiful! Thank you ever so much! We will treasure these photos forever. Its going to be really difficult picking out the ones for our album."

Roxanne Blythe
Wedding Suppliers: Details and Links
Church: Mirfield Parish Church
Reception Venue: Waterton Park Hotel & Walton Hall, Walton, West Yorkshire
Florist : More Than Flowers, Mirfield
Blossom Trees: Foletti Fleurs
Cars: Cartwrights Cars / Platinum Limousines
Dresses: Elite Boutique
Suits: Hire 5
Cake: Bakezilla's Bespoke Cakes
Chairs: Cushty Chair Covers
Recently Engaged?
Are you planning your own wedding? If you are seeking a photographer and you love the look of my images then please do get in touch with me.