The UK is in the midst of a 'Start-Up Revolution' which is seeing record numbers of people setting-up new businesses. This infographic explains why  a professional headshot is an essential marketing asset for any start-up or small business. 
My six reasons can be found in the infographic, below; or scroll down further if you prefer to read the long-form article.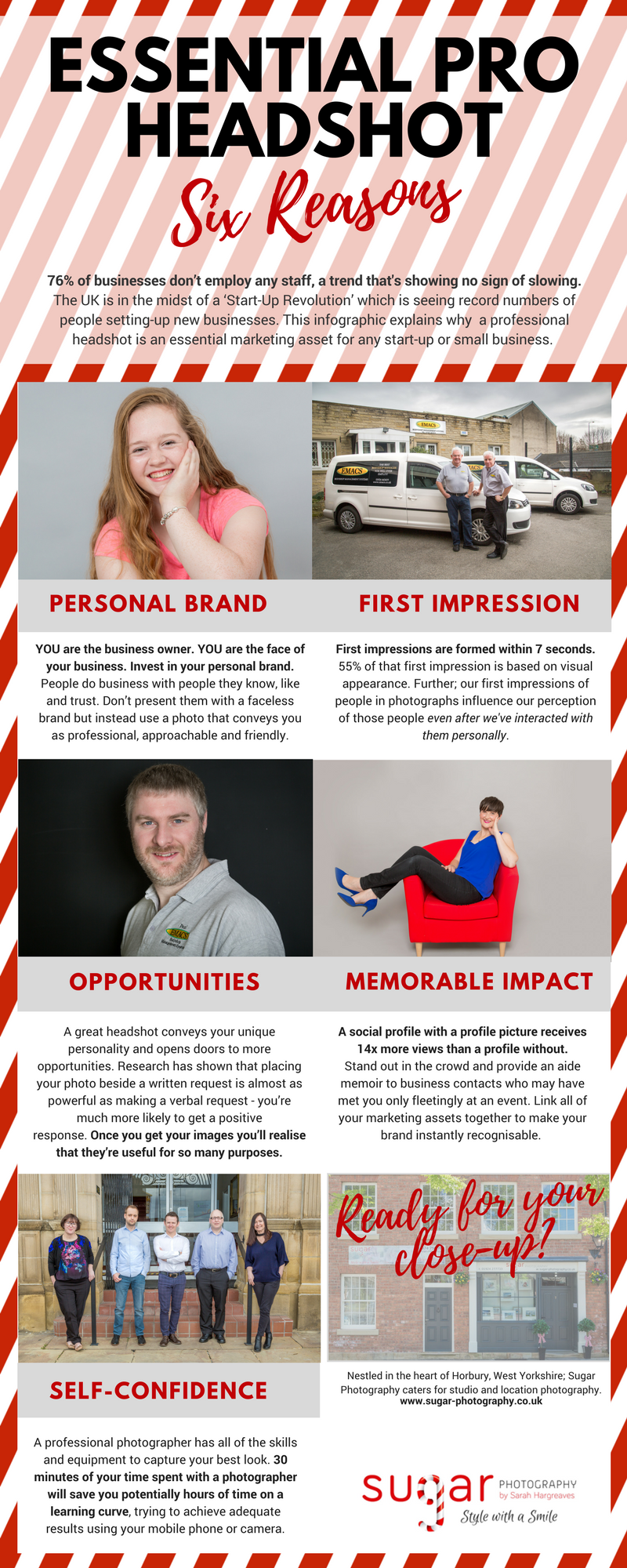 YOU are the business owner. YOU are the face of your business.
76% of businesses don't employ any staff, and the trend is showing no sign of slowing. (Source: Office For National Statistics, 2015).
People do business with people they know, like and trust. Don't present them with a faceless brand but instead use a photo that conveys you as professional, approachable and friendly.
Make a great first impression (you only get ONE chance)
First impressions are formed within 7 seconds. 55% of that first impression is based on visual appearance (Source: The Harvard Study Of Communications)
Our first impressions of people in photographs influence our perception of those people even after we've interacted with them personally. (Source: Business Insider)
Invest in your personal brand – secure more work
Potential clients and collaborators who have never met you will be much more likely to agree to that all-important initial meeting once they've seen that you are professional, friendly and approachable.
Headshots are not just for managers anymore, everybody needs one. With a great headshot, you convey your unique personality and open doors to more opportunities.
Be memorable
Stand out in the crowd and provide an aide memoir to business contacts who may have met you only fleetingly at an event. Link all of your marketing assets together to make your brand instantly recognisable.
A LinkedIn profile with a profile picture receives 14 times more views than a profile without. (Source: LinkedIn).
Look your best
A professional photographer has all of the skills and equipment to make you look your best. Just 30 minutes of your time spent with a photographer will save you potentially hours of time on a learning curve, trying to achieve adequate results using your mobile phone or camera.
Discover endless uses for your photos
Once you get your hands on those images you'll realise that they're useful for many purposes.
Research has shown that placing your photo beside a written request is almost as powerful as making a verbal request. You're much more likely to get a positive response by using a headshot.